At this point, our first Africa Blog should actually be here. Unfortunately it comes completely different than expected.
What were the times when Corona was only known as a Mexican beer. The worldwide pandemic has now changed everything and at a speed that nobody thought possible.
While our MOMO is shipped from Dubai to Durban we use the time for a little home leave and fly to Germany on 27 Feb Corona is just a footnote in the news at this time and something that primarily concerns the Chinese. After the situation gets even worse in the first half of March we decide to fly to South Africa earlier than planned and wait for our car there. On 11 March we fly to Durban and there we rent a nice Airbnb. The first days we spend at 25 degrees and bright sunshine on the beach and enjoy the good African cuisine. At the same time we observe the corona development with increasing concern and decide to break off on 16 March. At this time there are only 7 cases in South Africa, but we fear that when the virus reaches the townships it will end in a desaster. 
But now we still have the problem with MOMO. There are actually only two possibilities. To leave the car on a well secured parking lot in Johannesburg, or to organize a shipment to Bremerhaven. Our gut feeling tells us that we'd better take the car home with us. After an inquiry with the shipping company we get the ok on 20 March that the car can be shipped on without us having to be there. Well, a problem solved, but how do we get a flight? The flight of the tourists from Africa is already in full swing, the availability is getting scarcer every hour and the prices are doubling. Finally we get the last Air France flight on 23 March to Frankfurt via Paris. To be on the safe side, we fly one day earlier from Durban to Johannesburg and rent a nice backpacker hostel for one night. There we meet Kathrin and Hans-Jürgen who have been travelling by truck for 4 years. In the evening we have a barbecue in the hostel and after that live music and we forget the crisis for a short time and the four of us party again. Who knows when we can do that again.
As we are standing at the check-in the next evening we learn that our connecting flight to Frankfurt was cancelled 30min ago. There are no alternatives. We think Paris is at least not South Africa and flying out, no matter where, is still better than being stuck here. On Tuesday morning at 6am we are in Paris and go straight to the Air France counter for a connecting flight. But there was nothing we could do. There is only the possibility to wait one or two days in the hope that maybe sometime a flight to Frankfurt or Munich will leave. Trains, busses and taxis don't work either, so there is only a rental car left. So we go there, only to find that about 100 others have the same idea. Somehow we actually manage to book a reservation over the internet and around 9 am we actually sit in a car. The rental car for one day is with 600 euros a "bargain" and this only because we have arranged the return in France at the airport Mulhouse. The return in Lörrach, just 20km further on, but in Germany, would have cost 930 euros additionally for return. The EU has probably not yet arrived at Avis. Over empty motorways we are in about six hours to Lörrach near Basel where we will stay for the next time. Karin's sister is kind enough to grant us asylum until the crisis subsides.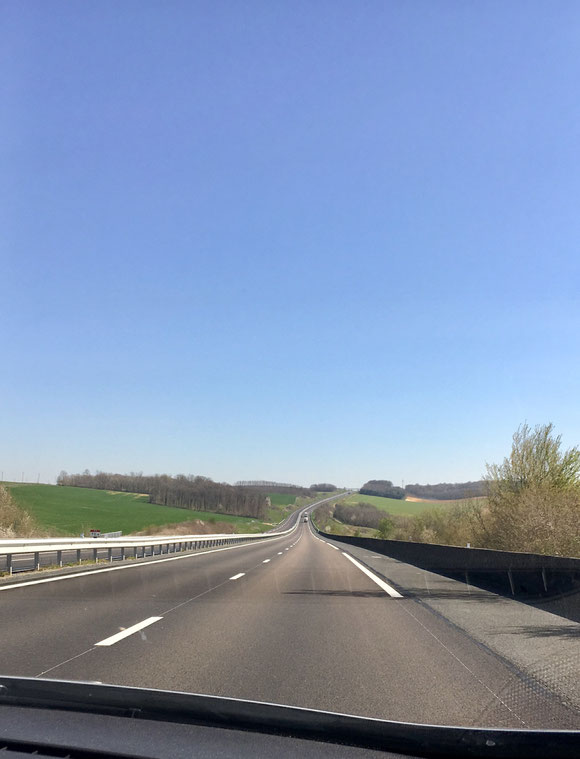 On 24.3.2013 we started our world trip. Now, after exactly seven wonderful years, we returned to Germany involuntarily on 24.3.2020. 
The rate of infections in South Africa has now reached over 900 and is probably unstoppable. Since Friday 27 March 0 o'clock there is a strict curfew which is monitored by the military. The country is practically at a standstill for the next 3 weeks, see also footnote at the bottom of the text.
We are now in self-imposed quarantine for 2 weeks and hope very much that we have not caught something somewhere.
I guess you will have to deal without our travel reports for a while now. But maybe we can start again sometime to discover the parts of the world we don't know yet. Then we will let you travel with us virtually again. Whether we will be able to travel again after the crisis as easy as before is written in the stars.
In this sense, stay healthy and fit and don't get infected, except by the travel virus which is not dangerous.
Greetings from the Ausreiser
Karin & Manfred
The story: The dramatic increase in velocity of confirmed cases of Covid-19 will restrict almost 57 million South Africans to their homes on Friday as the first of a 21-day national lockdown takes effect, with the police and the army enforcing strict limits on movement across the country.

Why it matters: In what is recognised as a global health crisis, the South African government has taken the dramatic step of shuttering most businesses in the country, confining almost everyone to their homes and shutting down all public transportation. All the country's border posts are closed, international and domestic flights are grounded, and non-essential services stopped.

The significance: This will be the largest, most complicated and challenging national effort ever